This one here is my pride and joy...an Olympic Arms CAR-97, bought during the height of the Clinton Assault Weapon Ban in the late 90's. She is barreled and chambered for the 5.56x45mm NATO cartridge...and does not have a bayonet lug and originally had a pinned collapseable stock as that was two of the AWB provisions at that time. I have since replaced that pinned with a six position adjustable stock, making it a handy carbine in tight spaces as well as a tack driver out to a few hundred yards.

Olympic Arms is one of the few AR15 manufacturers to make every major component part in-house. They have been found to constantly meet the rigid specifications of military, government and law enforcement agency contracts. Olympic Arms has provided firearms for Law Enforcement and Government agencies around the globe, including every branch of the U.S. Armed Forces.
Olympic was also the first to introduce features now seen as commonplace on the AR15 platform. It was the first company to produce flat-top upper receivers, free floating aluminum hand guards, pistol caliber conversions, and AR-15 based pistols. They also manufactures many AR-15s in calibers other than the standard 5.56x45mm. Olympic was the first in the industry to offer AR15 style firearms in 9mm and .45ACP, 10mm, 7.62x39mm, and the Winchester Super Short Magnum cartridges.
SPECS
1:9 twist rate
16" 416 Black Oxide Stainless Steel heavy barrel w/muzzle break
A2 forged upper/lower receiver
Pachmayr grips
(shown w/ red dot sight)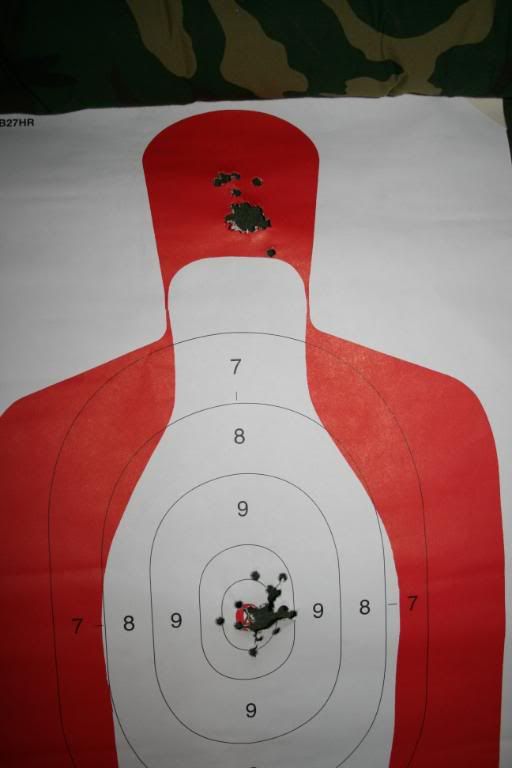 200 yards...using Hornady 5.56 NATO 55gr GMX Superformance (HEAD)
200 yards...using Hornady .223 REM 55gr TAP FPD (CENTER MASS)
bench rested over Caldwell Bag...utilizing my Winchester Spotting Scope 15-45X60mm
__________________